News
Open Up Digital Signage Possibilities with the NDiS M538
28.04.20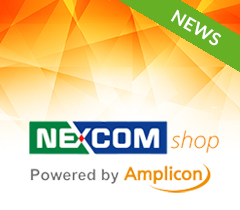 NEXCOM brings you our newest OPS digital signage player, the NDiS M538. Intended for those that require a high-performance CPU and HD graphics backbone, you'll see quicker speeds with the m.2 interface, better protected information transfer with the TPM 2.0 microcontroller, and a complete thermal solution to prevent overheating. The NDiS M538 is most suitable for large-screen applications where multimedia signage is essential, but is even appropriate for corporate meetings and events, education, hospitality, and gaming industries.
Having the best technology fits the best signage player
We're proud to employ the OPS standard for the NDiS M538, ensuring that our retail signage player will effortlessly connect to a variety of flat panel displays. Flexibility and choice is the name of the game; the NDiS M538 comes standard with the Coffee Lake 8th Generation Q370 socket-type chipset, giving you the flexibility to upgrade the CPU as business needs evolve. With success dependent on striking visuals to attract customers, we also include an Intel
®
UHD Graphics 630 card. We further ensure rapid storage speeds with our carefully selected m.2 interface.
Safe and secure is the name of the game
Not only is the NDiS M538 suitable for a variety of retail and service environments, but its onboard TPM 2.0 also extends its uses to high-security settings. More specifically, the TPM's data encryption and integrity attributes would be critical elements to institutions such as banks and casinos. Additionally, the NDiS M538 features a unique thermal solution: the CPU cooler and heat sink allows heat to easily dissipate separately from the display, ensuring that the digital signage player can operate in wide-temperature (-5 to 45°C) and suboptimal conditions.
Just the essentials, ma'am
We've redesigned and simplified the NDiS M538's I/O interface to reflect specific customer needs while presenting a clean, uncluttered appearance. First and foremost, NEXCOM understands that a critical aspect of your business is multi-display capabilities. That's why we've included an essential DP 1.2 port with additional expansion port, ensuring that a variety of environments, from conference rooms and classrooms to menu and welcome boards, will be able to simultaneously display high-pixel information on multiple screens. Use any of the USB ports for ancillary needs, such as an extra monitor for performing routine maintenance. We've also conveniently included a COM port for legacy devices and Wi-Fi module – which you can directly access and change out from the I/O interface – for easy information transfer and networking.
Main Features
8th Generation Intel® Core™ i processor
Support socket type CPU up to 35W
Intel® UHD 630 graphic engine
Support 3 independent 4K2K video output
Support socket type CPU up to 35W
Dual DDR4 SO-DIMM support
Support Wi-Fi module
TPM2.0 IC on board
News Archive

Bigger is better in the case of NEXCOM's updated TPPC 2401/2701/3201 passenger information panel PC...

NEXCOM brings you the NISE 4300, our next generation of advanced Intel® Core-based fanless computers...

EMBUX introduces its newest ARM embedded board, the EBC3A1-1G Y0, particularly intended for machine manufacturers and system integrators...

NEXCOM introduces the fundamental solution to these concerns with the nROK 6222/VTC 6222, a rugged mobile computer specifically designed to connect with IP surveillance cameras for monitoring purposes...

NEXCOM is proud to introduce its latest series of mobile communication hubs, the nROK 6221 (rolling stock), nROK 6221-IP (rolling stock with IP65 certification), and VTC 6221...

NEXCOM is thrilled to reintroduce the SBC EBC 357X series with a revamped design that withstands adverse temperatures and economises space with its upside-down CPU...

NEXCOM has launched a multi-connectivity and maintenance free fanless computer, Neu-X100. Featuring compact size yet with full functionality, Neu-X100 can be widely used as retail solution...

Commercial applications demand power, which traditionally used to mean hardware bulk and high operating costs. But with single board computers such as the NEXCOM PEAK 889VL2...

Throughout this year we supported three new charities, the Dogs Trust, 1st Durrington Scout Group and The Martlets....