News
Amplicon monitors find new home in Africa
14.03.18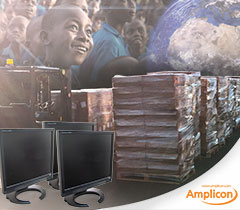 Following a recent refurbishment, Amplicon were keen to find a new use for a large number of monitors that would have otherwise been recycled for materials such as plastic and metal. For this reason, we decided to donate our redundant working equipment to Computers 4 Africa.
Computers 4 Africa is a registered charity with their central processing unit in Kent. Their mission is to help lift Africa out of the poverty trap by equipping the next generation with the technology and support to work in a global environment, bridging the gap between less economically developed countries and the rest of the world.

Amplicon is proud to support a charity that works so hard to make modern IT available to those whom do not have easy access to technology, greatly enhancing their ability to learn, work and progress.

Helen Gallagher, Head of Administration at Computers4Africa said:
"Over 1.8 million children in Africa have received an IT education thanks to Computers 4 Africa. We can only do this because of the generosity of our donors. Computers 4 Africa recently received a donation of computer equipment from Amplicon. This equipment will go to school and NGO projects in Africa and will make a huge difference to the lives of the people who receive it. We are proud to be collaborating with Amplicon and thanks to their donation we will be able to make a difference to the IT education of 120 African children."
News Archive

Following their annual audit, Amplicon has successfully achieved the requirements of international standard ISO 9001:2015....

Nexcomshop.com, the premier UK distributor for Nexcom products has introduced the new EBC 357X series to its range of multimedia processors...

The Nexcom PEAK 887VL2 has been around for almost 3 years now and it is still one of the best industrial-grade PICMG Single Board Computers...

The new NISE 3600 and NISE 3700 series are a mixture of scalable computing, high performance, enhanced flexibility, and high-bandwidth interfaces/expansion...

Nexcom has revamped its industrial panel PCs with the IPPC A1770 series to embrace the advent of precision manufacturing....

The versatile APPC-xx40T series are designed to meet the demanding requirements of vehicle, factory, warehouse, and dust-filled environment applications....

The PEAK 888VL2 is the latest PICMG 1.3 SBC from Nexcom. The PEAK 888VL2 provides powerful processing and I/O capabilities....

The NISE 50 is the latest IoT Gateway from Nexcom in its affordable range....

Nexcomshop.com, the premier UK distributor for Nexcom products has introduced the NIFE 300 PC-based IoT controller, designed to accelerate the migration of automation systems to cyber-physical systems for smart manufacturing....