News
Enjoy Superior Graphic Output and Low Power Usage with Enhanced EBC 357X 3.5" Boards
24.10.19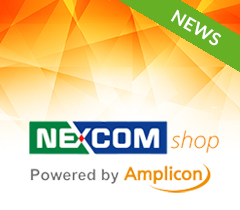 NEXCOM is thrilled to reintroduce the SBC EBC 357X series with a revamped design that withstands adverse temperatures and economises space with its upside-down CPU. The boards save costs by utilising world-class Intel Atom
®
E39xx processors, which function as beautifully as i3s without sacrificing speed. Intended for those that desire simple and compact HMIs, the EBC 357X series is suitable for a variety of uses, such as industrial automation, building management systems, outdoor retail, and public infrastructure.
Industrial and outdoor environments are subject to unpredictable and variable temperatures, requiring versatile and durable equipment. Wide-temperature embedded systems endure rigorous testing to ensure responsiveness regardless of operational conditions. The attractiveness of the EBC 357X series is that our systems consume low power while operating at a greater range of temperatures than competitors (-20°C~60°C fanless, -20°C~70°C with fan), making it a value-driven choice for disparate environments, including traffic control units, bus stop displays, machine vision systems, and industrial panel PCs.
The carefully selected Intel Atom
®
processors use low-power architecture to support immersive graphics and media. Capitalising on these abilities, the EBC 357X series includes three different display outputs, allowing flexibility of presentation without sacrificing visual power. Up to 16GB of dual DDR3L/SO-DIMM memory also assists with quicker Ultra HD 4k video display while allowing simultaneous operation of multiple applications, which can be embedded. The SBCs are beneficial in controlling and monitoring manufacturing equipment as well as providing real-time information for transportation facilities.
NEXCOM has moved all I/O components to the top side of the EBC 357X series, creating a compact and thinner design that avoids the need for cooling fans, perfect for HMI panels and battery-powered portable devices. The EBC 357X is the solution for those that desire a small yet powerful 3.5" computer, complete with two ports for M.2 B key and SATA storage, an expansion slot that supports both PCIe and SATA interfaces, and 2 x USB 3.0 slots for faster speeds, complemented by 4 x USB 2.0 slots for extra needs.
Main Features
Onboard Intel Atom® processor E39xx processor family
CPU upside down design
2 x 204-pin SO-DIMM DDR3L
Triplex display: HDMI/VGA/LVDS
1 x M.2 (2242) B key
2 x Intel® i210-IT PCI express Gigabit Ethernet
1 x SATA 2.0
2 x USB 3.0, 4 x USB 2.0, 4-in/4-out GPIO, Mic-in, Speak-out
Serial port: 1 x RS232, 1 x RS232/422/485 port
Support AT/ATX mode and single +12VDC input
News Archive

Bigger is better in the case of NEXCOM's updated TPPC 2401/2701/3201 passenger information panel PC...

NEXCOM brings you our newest OPS digital signage player, the NDiS M538. Intended for those that require a high-performance CPU and HD graphics backbone...

NEXCOM brings you the NISE 4300, our next generation of advanced Intel® Core-based fanless computers...

EMBUX introduces its newest ARM embedded board, the EBC3A1-1G Y0, particularly intended for machine manufacturers and system integrators...

NEXCOM introduces the fundamental solution to these concerns with the nROK 6222/VTC 6222, a rugged mobile computer specifically designed to connect with IP surveillance cameras for monitoring purposes...

NEXCOM is proud to introduce its latest series of mobile communication hubs, the nROK 6221 (rolling stock), nROK 6221-IP (rolling stock with IP65 certification), and VTC 6221...

NEXCOM has launched a multi-connectivity and maintenance free fanless computer, Neu-X100. Featuring compact size yet with full functionality, Neu-X100 can be widely used as retail solution...

Commercial applications demand power, which traditionally used to mean hardware bulk and high operating costs. But with single board computers such as the NEXCOM PEAK 889VL2...

Throughout this year we supported three new charities, the Dogs Trust, 1st Durrington Scout Group and The Martlets....