News
Neu-X100, a Palm-Size Fanless Computer with Full Functionality for Smart City
26.09.19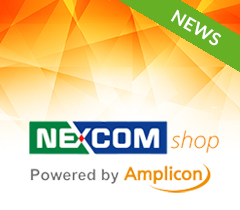 NEXCOM has launched a multi-connectivity and maintenance free fanless computer, Neu-X100. Featuring compact size yet with full functionality, Neu-X100 can be widely used as retail solution, such as digital signage applications and public information systems. By supporting miniPCIe devices, it is also packed with AI edge feature for smart city.
Compact yet Full Functionality
With size of 152mm (L) x 106mm (W) x 37mm (H), Neu-X100 is truly a palm size fanless computer. But small does not mean less. Neu-X100 is designed with multi-connectivity interface that ensures scalable device communication. Customer is able to connect devices with Neu-X100 via COM port, Ethernet-based LAN port, WiFi or LTE modules. With ease of connectivity, this stand alone player is ideal across areas, such as digital menu board, self ordering system and public information systems like library, museum and healthcare system.
In addition, the functions and features of Neu-X100 have evolved for smart city. By supporting miniPCIe devices, an AI accelerator card, such as AIBooster card, can be inserted into Neu-X100 that AI analytics can be performed for right data extraction and edge computing, such as facial identification and object detection, can be processed for smart cities and AI applications.
Maintenance Free with Security Fastened
The power adapter of Neu-X100 comes with lockable design to avoid unexpected power loosing. 100% fanless design shows that Neu-X100 is ready for cruel environment to beat dust and humidity. Memory and storage card can be easily changed from the back of the peripheral to minimise loading of future maintenance. By enabling customer to deliver targeted and dynamic visual messaging, this 4K signage player also supports dual displays to increase audience engagement and reduces costs.
Identify the Right Player for Your Business from Different CPU
There are two models for customer to choose from: N3350E and J3455E. Powered by Intel
®
Celeron
®
Dual Core CPU, N3350E not only supports dual 4K displays, it also comes with price competitive that meets the expectation of price-sensitive customer. For J3455E, it is equipped with Intel
®
Celeron
®
Quad Core CPU which features advanced computing performance. With over 50% higher of CPU mark compared to N3350, J3455E is the best fit for multimedia-driven customers.
Main Features
Intel® Apollo Lake N3350/N4200/J3455E processor
3.5" MB size as slim chassis design
Support HDMI2.0 output
Fanless design
mini-PCIe slot support Wi-Fi and LTE module
News Archive

Bigger is better in the case of NEXCOM's updated TPPC 2401/2701/3201 passenger information panel PC...

NEXCOM brings you our newest OPS digital signage player, the NDiS M538. Intended for those that require a high-performance CPU and HD graphics backbone...

NEXCOM brings you the NISE 4300, our next generation of advanced Intel® Core-based fanless computers...

EMBUX introduces its newest ARM embedded board, the EBC3A1-1G Y0, particularly intended for machine manufacturers and system integrators...

NEXCOM introduces the fundamental solution to these concerns with the nROK 6222/VTC 6222, a rugged mobile computer specifically designed to connect with IP surveillance cameras for monitoring purposes...

NEXCOM is proud to introduce its latest series of mobile communication hubs, the nROK 6221 (rolling stock), nROK 6221-IP (rolling stock with IP65 certification), and VTC 6221...

NEXCOM is thrilled to reintroduce the SBC EBC 357X series with a revamped design that withstands adverse temperatures and economises space with its upside-down CPU...

Commercial applications demand power, which traditionally used to mean hardware bulk and high operating costs. But with single board computers such as the NEXCOM PEAK 889VL2...

Throughout this year we supported three new charities, the Dogs Trust, 1st Durrington Scout Group and The Martlets....