News
Amplicon gains ISO 9001:2015 Certification
24.10.17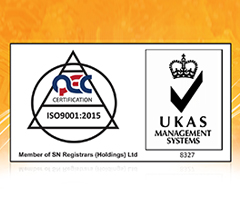 Following their annual audit, Amplicon has successfully achieved the requirements of international standard ISO 9001:2015.

Amplicon first obtained certification to the management systems standard in 1992 and, thanks to outstanding leadership, continue to exceed the much more demanding expectations of the new standard.

Amplicon are proud to put customers at the centre of all they do and look forward to working with the certification body to assure them the highest standard of management at all times.
News Archive

Amplicon is proud to support a charity that works so hard to make modern IT available to those whom do not have easy access to technology, greatly enhancing their ability to learn, work and progress....

Nexcomshop.com, the premier UK distributor for Nexcom products has introduced the new EBC 357X series to its range of multimedia processors...

The Nexcom PEAK 887VL2 has been around for almost 3 years now and it is still one of the best industrial-grade PICMG Single Board Computers...

The new NISE 3600 and NISE 3700 series are a mixture of scalable computing, high performance, enhanced flexibility, and high-bandwidth interfaces/expansion...