News
New NEXCOM IoT controller for smart manufacturing
14.03.16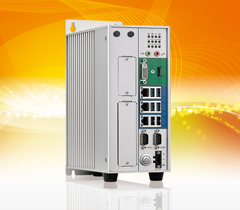 Boosted by the 6th generation Intel® Core™ i5-6500TE and i7-6700TE processors (codename Skylake), the NIFE 300 open architecture features high interoperability to provide a unified infrastructure, communication network and programming tool for factory floors and company offices. The NIFE 300 helps in achieving speed, efficiency, and agility in manufacturing.

Intended for large-size machinery and distributed control systems with hundreds of control nodes, the NIFE 300 simplifies integration and expansion of nodes with its PC-based open architecture and uplifts protocol barriers with real-time industrial Ethernet technology of EtherCAT and fieldbus communication. Different subsystems and PLCs can be put under the management of the NISE 300 with synchronization latency controlled at a tenth of a millisecond; functions like machine vision-based guidance, inspection, gauging, and identification can be flexibly integrated through front PCI and PCIe interfaces.

To address high mix low volume production needs, the NIFE 300 meets PLCopen® specifications and allows easy control programming via CODESYS Control RTE and CODESYS SoftMotion tool kits. Using libraries of reusable logic and motion functionality, control schemes can be developed with reduced programming efforts for fast deployment of SoftPLC and IoT controllers. To further facilitate manufacturing management, the NIFE 300 HMI software gives a big picture of working processes and system status through either a local HMI station or a web-based HMI.

The NIFE 300 takes manufacturing a step further by connecting factory networks to enterprise networks over Gigabit Ethernet. The connection gives the NIFE 300 access to manufacturing execution systems (MES) and enterprise resource planning (ERP) systems among others, letting manufacturers make orders with agility.
News Archive

Amplicon is proud to support a charity that works so hard to make modern IT available to those whom do not have easy access to technology, greatly enhancing their ability to learn, work and progress....

Following their annual audit, Amplicon has successfully achieved the requirements of international standard ISO 9001:2015....

Nexcomshop.com, the premier UK distributor for Nexcom products has introduced the new EBC 357X series to its range of multimedia processors...

The Nexcom PEAK 887VL2 has been around for almost 3 years now and it is still one of the best industrial-grade PICMG Single Board Computers...

The new NISE 3600 and NISE 3700 series are a mixture of scalable computing, high performance, enhanced flexibility, and high-bandwidth interfaces/expansion...

Nexcom has revamped its industrial panel PCs with the IPPC A1770 series to embrace the advent of precision manufacturing....

The versatile APPC-xx40T series are designed to meet the demanding requirements of vehicle, factory, warehouse, and dust-filled environment applications....

The PEAK 888VL2 is the latest PICMG 1.3 SBC from Nexcom. The PEAK 888VL2 provides powerful processing and I/O capabilities....

The NISE 50 is the latest IoT Gateway from Nexcom in its affordable range....