News
NISE 4300: The Next Level of Fanless Systems
31.03.20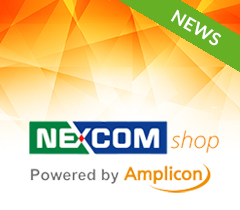 In our quest to continually update computing solutions to reflect your needs, NEXCOM brings you the NISE 4300, our next generation of advanced Intel
®
Core-based fanless computers. With a variety of I/O ports to connect your peripherals, it's particularly suitable for factory automation and other indoor industrial uses. Its resistive touch and IP20 rating also ensure customisability as a panel PC, making the NISE 4300 an all-in-one package for everyday needs, even as an edge server and IoT gateway.
A package deal – with options
Experience the ease of using an all-in-one, lightweight computer. The NISE 4300 is a compact, IP20-rated box PC that pairs perfectly with any of our resistive (15", 17", 19") or PCAP (15.6", 21.5") touch screens to become a panel PC with IP20 rating, displaying powerful graphics. Choose from M.2, HDD, mSATA, or SSD options for your storage requirements. Our solution also includes TPM (Infineon SLB9665) to provide the utmost in comprehensive security and platform integrity.
Convenience of connectivity
The NISE 4300 is equipped to be your go-to device, functioning as both edge server and IoT gateway. From a design perspective, the I/O interface is streamlined and organised: the array of I/O ports is all located in the front, providing easy access for all of your peripheral devices. We provide multiple USB, serial, and GPIO ports on-board, while also making graphic display easy with two DP ports and additional internal LVDS for the panel PC version. Networking with other IoT devices is also stress-free – an expansion slot is available for mini-PCIe Wi-Fi and LTE modules.
Main Features
Supports 6th-generation Intel® Core™ i5/i3 BGA type processor
Supports 1 x 2.5" SATA HDD
2 x DP and 1 x LVDS (internal) with independent display support
2 x Intel® GbE LAN ports
1 x M.2 socket and 1 x mini-PCIe socket
2 x USB 3.0, 2 x USB 2.0, 2 x RS232, 1 x RS232/422/485 with auto flow contro
Supports +24VDC input; ATX power mode
Panel PC adaptable
News Archive

Bigger is better in the case of NEXCOM's updated TPPC 2401/2701/3201 passenger information panel PC...

NEXCOM brings you our newest OPS digital signage player, the NDiS M538. Intended for those that require a high-performance CPU and HD graphics backbone...

EMBUX introduces its newest ARM embedded board, the EBC3A1-1G Y0, particularly intended for machine manufacturers and system integrators...

NEXCOM introduces the fundamental solution to these concerns with the nROK 6222/VTC 6222, a rugged mobile computer specifically designed to connect with IP surveillance cameras for monitoring purposes...

NEXCOM is proud to introduce its latest series of mobile communication hubs, the nROK 6221 (rolling stock), nROK 6221-IP (rolling stock with IP65 certification), and VTC 6221...

NEXCOM is thrilled to reintroduce the SBC EBC 357X series with a revamped design that withstands adverse temperatures and economises space with its upside-down CPU...

NEXCOM has launched a multi-connectivity and maintenance free fanless computer, Neu-X100. Featuring compact size yet with full functionality, Neu-X100 can be widely used as retail solution...

Commercial applications demand power, which traditionally used to mean hardware bulk and high operating costs. But with single board computers such as the NEXCOM PEAK 889VL2...

Throughout this year we supported three new charities, the Dogs Trust, 1st Durrington Scout Group and The Martlets....