News
NEXCOM's nROK 6221/VTC 6221 Mobile Communication Hubs Connect the Way
24.12.19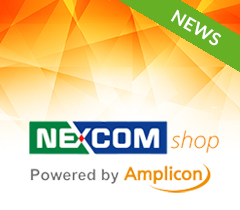 NEXCOM is proud to introduce its latest series of mobile communication hubs, the nROK 6221 (rolling stock), nROK 6221-IP (rolling stock with IP65 certification), and VTC 6221 (in-vehicle telematics computer), which maintain the durability and slim design of earlier models yet now feature five adaptable expansion slots for cellular connectivity and alternative options. The fanless computers are also able to simultaneously display information on up to three screens via VGA and HDMI connections. Moreover, specific models are protected against sudden power surges (nROK 6221 series), E13 certified (VTC 6221), EN 50155 compliant (nROK 6221 series), and IP65 rated (nROK 6221-IP).
Data flows seamlessly and safely
The main feature of the nROK 6221/VTC 6221 is its use as a mobile communication hub with five expansion slots. The standard models are able to offer more WWAN modules and SIM card slots than its predecessors – as well as competitor solutions – thus providing extra bandwidth while allowing vehicles mobile flexibility. Use up to three pairs of SIM cards in three onboard WWAN modules, which will soon include support for 5G networks. Each module's network redundancy allows you to swap operators in case one signal is weak, in instances such as traveling through tunnels and crossing borders, thereby maintaining seamless connectivity and saving potential roaming costs. This even allows you to concurrently join three independent WWAN networks so that you can multitask anywhere and anytime, worry-free. For additional bandwidth, customise another slot as a fourth WWAN module and two SIM card slots.
You can also employ two slots as private and public WLAN modules. The private WLAN not only securely protects against data breaches but can likewise connect IP cameras to the cloud for data transfer to a centralised monitoring center, while the public WLAN allows passengers on rolling stock vehicles to easily access the Internet via Wi-Fi.
With endless applications, choose your own adventure
Tailor the five expansion slots to your specific needs, and allow the nROK 6221/VTC 6221 to unlock potential for a complete, integrated system that makes information inflow and outflow easy. While the computer already includes the following components, use the expansion slots to add more and further boost the fanless computer's utility. Extra RS-232/422/485 serial ports could connect to critical devices, such as accelerators and sensors, while an extra CAN bus to vehicle control systems. An expanded GPIO module delivers more connectivity options, such as for motion detectors and buzzers, and installing a video capture card could support video surveillance equipment. Additionally, extra USB ports may be necessary as USB has replaced serial and parallel ports as the "go-to" interface. You can similarly install another LAN port for extra bandwidth. NEXCOM also knows that devices may be subject to adverse conditions; thus, the nROK-IP mostly uses secure and high-quality M12 connectors, while non-IP nROK models use X-coded M12 LAN connectors. But however you want to use the nROK 6221/VTC 6221, the sky's the limit!
Picture-perfect triple (dis)play
Use any of the three independent video outputs, two VGA and one HDMI (excluded on IP model), so passengers can view local entertainment, news, and weather reports. Take advantage of business opportunities to display advertisements and commercials, and collaborate with local tourist bureaus to display information about points of interest. Also incorporate input devices: external cameras attached to the locomotive could provide live views for railway passengers to experience the excitement of being in the driver's seat, while drivers could monitor actual vehicle conditions. In addition, the mobile communication hub's serial port could link to LED displays to display journey information.
Quality and safety assured
All of the smart sized computers come standard with Intel Atom
®
E3950 quad core processors. Make use of the CFast card and SSD storage space to ensure that information is managed and relayed as quickly as possible. What's more, as vehicles can experience sudden power surges that may destroy electronics, the nROK 6221 railway computer series provides peace of mind with an optional isolated power supply. This is in addition to the assurance provided by the VTC 6221's E13 certification and the nROK 6221 series' EN50155 compliance (tested for temperature, shock, vibration, EMC, and other environmental parameters). The nROK 6221-IP model is IP65 certified (dust and water ingress) as well.
News Archive

Bigger is better in the case of NEXCOM's updated TPPC 2401/2701/3201 passenger information panel PC...

NEXCOM brings you our newest OPS digital signage player, the NDiS M538. Intended for those that require a high-performance CPU and HD graphics backbone...

NEXCOM brings you the NISE 4300, our next generation of advanced Intel® Core-based fanless computers...

EMBUX introduces its newest ARM embedded board, the EBC3A1-1G Y0, particularly intended for machine manufacturers and system integrators...

NEXCOM introduces the fundamental solution to these concerns with the nROK 6222/VTC 6222, a rugged mobile computer specifically designed to connect with IP surveillance cameras for monitoring purposes...

NEXCOM is thrilled to reintroduce the SBC EBC 357X series with a revamped design that withstands adverse temperatures and economises space with its upside-down CPU...

NEXCOM has launched a multi-connectivity and maintenance free fanless computer, Neu-X100. Featuring compact size yet with full functionality, Neu-X100 can be widely used as retail solution...

Commercial applications demand power, which traditionally used to mean hardware bulk and high operating costs. But with single board computers such as the NEXCOM PEAK 889VL2...

Throughout this year we supported three new charities, the Dogs Trust, 1st Durrington Scout Group and The Martlets....