News
Amplicon Founders Day goes down a treat!
09.08.18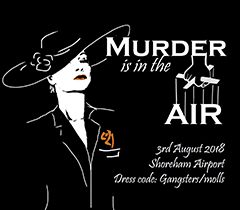 On Friday 3rd August, after months of planning and logistical nightmares, the Amplicon team enjoyed their annual Founders Day celebrations!

This year, the event was a 1920's gangsters and molls theme, entitled 'Murder is in The Air', bringing the excitement and danger of the prohibition era back to life once again.

The day began with a coach journey of anticipation to Shoreham Airport, where the Amplicon Marketing team turned our private suite into a glamorous speakeasy. However, shortly into the celebrations, the peace was disrupted by a gunshot and sirens as the murder mystery began.

Alongside the murder mystery, each of our notorious mafia family tables were swept away for a breath taking helicopter tour of Brighton, providing us with a perspective of our hometown that many of us had never experienced before and may never experience again!

Throughout the day, new friendships were formed, working relationships were made close and everybody had a fantastic time, and more importantly…everyone survived the helicopter ride!

The head of Marketing, Miriam Bernal commented: "When you see your colleagues having such a great time and everything goes to plan, you quickly forget about the stress and nerves before the big day.

The whole team would like to say a big thank you to our CEO Gina Citroni, for generously funding the day. We are thrilled that everyone enjoyed themselves so much.

We look forward to seeing what next year brings!"
News Archive

Throughout this year we supported three new charities, the Dogs Trust, 1st Durrington Scout Group and The Martlets....

On June 28th, Amplicon has taken part in the charity event Action Cream Teas, organised by the children's charity Action Medical Research...

We are pleased to announce the winner of the exciting Amplicon Easter competition....

On March 29th, Amplicon hosted a fundraising day in support of the local charity Albion in the Community...

To get into the Easter spirit, Amplicon will be giving away a 'Hotel Chocolat' hamper full to the brim of deliciously indulgent treats...

Team at Amplicon donated any unwanted or unneeded items of clothing to Brighton based charity Martlets Hospice...

On Friday 19th October, Brighton based computer manufacturer, Amplicon, hosted a football fundraising event in aid of Breast Cancer Now;...

Today, Amplicon is hosting a baking challenge in support of Macmillan Cancer Support....