News
Nexcom PEAK 887VL2, best industrial-grade PICMG Single Board Computer
10.03.17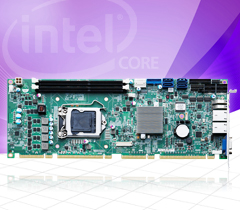 The Nexcom PEAK 887VL2 has been around for almost 3 years now and it is still one of the best industrial-grade PICMG Single Board Computers available on the market thanks to its reliability, robustness and flexibility for all industrial applications.
With the raise of IoT based devices operating in the factory floor, industrial rackmount computers must be able to cope with demanding processing needs and provide connectivity for a diverse range of peripheral devices. The PEAK 887VL2 single board motherboard matches these critical requirements, making it an ideal component to build-up a high performing solution.
The PEAK 887VL2 offers triple display options with HD graphics to signage, HMI and control room screens in either an analogue or digital environment. It offers expansion options with one PCIex16 for the more high bandwidth processes and four PCIex1 for the more conventional tasks. The unit also offers a vast range of I/O connectivity for maximum peripheral device expandability with eight USB ports, six SATA ports and 2 GbE LAN ports.
The PEAK 887VL2 is suitable for use in a variety of industrial applications, including industrial automation, motion control, facility management systems, transportation management, and digital surveillance.
News Archive

Amplicon is proud to support a charity that works so hard to make modern IT available to those whom do not have easy access to technology, greatly enhancing their ability to learn, work and progress....

Following their annual audit, Amplicon has successfully achieved the requirements of international standard ISO 9001:2015....

Nexcomshop.com, the premier UK distributor for Nexcom products has introduced the new EBC 357X series to its range of multimedia processors...

The new NISE 3600 and NISE 3700 series are a mixture of scalable computing, high performance, enhanced flexibility, and high-bandwidth interfaces/expansion...

Nexcom has revamped its industrial panel PCs with the IPPC A1770 series to embrace the advent of precision manufacturing....

The versatile APPC-xx40T series are designed to meet the demanding requirements of vehicle, factory, warehouse, and dust-filled environment applications....

The PEAK 888VL2 is the latest PICMG 1.3 SBC from Nexcom. The PEAK 888VL2 provides powerful processing and I/O capabilities....

The NISE 50 is the latest IoT Gateway from Nexcom in its affordable range....

Nexcomshop.com, the premier UK distributor for Nexcom products has introduced the NIFE 300 PC-based IoT controller, designed to accelerate the migration of automation systems to cyber-physical systems for smart manufacturing....