News
New PCs offer enhanced capability & functionality for a broad spectrum of applications
20.01.17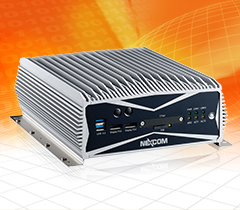 The versatile NISE 3600 and 3700 models from Nexcom provide functionality to futureproof systems by using increased bandwidth capabilities, more interface options, additional display choices, augmented processing power, and even wireless networking possibilities.
The new NISE 3600 and NISE 3700 series are a mixture of scalable computing, high performance, enhanced flexibility, and high-bandwidth interfaces/expansion.
The new models have been designed for those needing to modernise and move away from EOL hardware (e.g. the 3500 series), or even specify new hardware project designs. These two families present a fresh industrial design and reliability for the solution in question.
Users benefit from an enhanced capability and functionality for a broad spectrum of applications including factory automation, traffic enforcement, and public information systems. These products are ideal for automated optical inspection, accelerating visual inspection process and ensuring production quality.
The NISE models have a range of options for the processor; i7/i5/i3, Celeron, or Pentium (up to 3.3GHz), up to 8GB DDR3/DDR3L SO-DIMM memory, and Intel® HD Graphics. Meaning that tasks are accomplished quicker and sophisticated graphics can be handled (support for latest DirectX versions).
With options for expansion including up to two PCIex4 / PCI expansion cards users are able to further enhance the capabilities. For playback, there is three-way independent display functionality via DisplayPort, HDMI, and DVI-D/VGA interfaces. USB 3.0 interfaces enable tenfold increase in data transfer rates (up to 5Gbps) and backward compatibility to USB 2.0.
In total, these units provide four USB 3.0 ports, up to two USB 2.0 ports, up to three Intel GbE LAN ports, up to six serial ports and built-in wireless interfaces for Wi-Fi/GSM expansion. As for storage the NISE 3600/3700 series support up to two 2.5" SATA 3.0 6Gb/s HDDs/SSDs and one CFast storage unit which is located on the front panel for easy access.
The cooling fins on the fanless exterior of the NSIE units have carved wave patterns to provide more surface areas for air circulation and heat dissipation. For power, the models accept a wide range of 9-30VDC input.
News Archive

Amplicon is proud to support a charity that works so hard to make modern IT available to those whom do not have easy access to technology, greatly enhancing their ability to learn, work and progress....

Following their annual audit, Amplicon has successfully achieved the requirements of international standard ISO 9001:2015....

Nexcomshop.com, the premier UK distributor for Nexcom products has introduced the new EBC 357X series to its range of multimedia processors...

The Nexcom PEAK 887VL2 has been around for almost 3 years now and it is still one of the best industrial-grade PICMG Single Board Computers...

Nexcom has revamped its industrial panel PCs with the IPPC A1770 series to embrace the advent of precision manufacturing....

The versatile APPC-xx40T series are designed to meet the demanding requirements of vehicle, factory, warehouse, and dust-filled environment applications....

The PEAK 888VL2 is the latest PICMG 1.3 SBC from Nexcom. The PEAK 888VL2 provides powerful processing and I/O capabilities....

The NISE 50 is the latest IoT Gateway from Nexcom in its affordable range....

Nexcomshop.com, the premier UK distributor for Nexcom products has introduced the NIFE 300 PC-based IoT controller, designed to accelerate the migration of automation systems to cyber-physical systems for smart manufacturing....