News
New Industrial Panel PCs combine robust design with flexible touchscreen options
10.11.16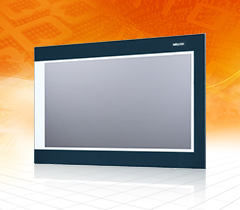 Nexcom has revamped its industrial panel PCs with the IPPC A1770 series to embrace the advent of precision manufacturing. Targeted at advanced machine control some of its features include a fanless design, HD graphics, touch technologies and several I/O interfaces.
With overall performance boosts and flexible configurations, the IPPC A1770 series helps machine builders with diverse machine control and Human Machine Interface (HMI) offerings while keeping the appearance and design unified.
The fanless IPPC A1770 series is designed for advanced machine control with 3D-intensive HMI applications used in heavy industries.
Built with a choice of Intel® Core™ i5-4590T (3.0GHz, 6M Cache), i3-4350T (3.1GHz, 4M Cache), Pentium® G3320TE (2.3GHz, 3M Cache), or Celeron® G1820TE (2.2GHz, 2M Cache) processor, the IPPC A1770 panel PCs are packed with computing power and exceptional 2D and 3D rendering capabilities.
On industrial machines, the IPPC A1770 series can be programmed to execute look-ahead, adaptive speed algorithms, and other advanced machine control for multi-axis, high-speed, high-accuracy machining. As for machine HMIs, the series can run 3D machining animations, toolpath simulations, and work orders on its 4:3 17-inch touchscreen, helping operators monitor machining status.
The IPPC A1770 series supports expansion with PCI, PCIe, and mini-PCIe options. For instance, two mini-PCIe slots are provided along with a wide selection of add-on modules, which includes fieldbus modules for industrial automation control, Wi-Fi/3G/LTE modules for internet connection, fast-write NVRAM modules for emergency data storage, mSATA modules for storage expansion, and I/O modules for extra LAN and COM connectivity.
Additionally, a waterproof front USB is meant to facilitate machine file upload on site and can be disabled after a file transfer to avoid unauthorized copying and virus infection, while an internal USB is intended for software license dongles and to provide theft protection.
This rugged IPPC is designed for harsh operating environments, encased in a metal housing and option of a projected captive (P-cap) or resistive touch panel within the IP66-compliant aluminium front bezel.
News Archive

Amplicon is proud to support a charity that works so hard to make modern IT available to those whom do not have easy access to technology, greatly enhancing their ability to learn, work and progress....

Following their annual audit, Amplicon has successfully achieved the requirements of international standard ISO 9001:2015....

Nexcomshop.com, the premier UK distributor for Nexcom products has introduced the new EBC 357X series to its range of multimedia processors...

The Nexcom PEAK 887VL2 has been around for almost 3 years now and it is still one of the best industrial-grade PICMG Single Board Computers...

The new NISE 3600 and NISE 3700 series are a mixture of scalable computing, high performance, enhanced flexibility, and high-bandwidth interfaces/expansion...

The versatile APPC-xx40T series are designed to meet the demanding requirements of vehicle, factory, warehouse, and dust-filled environment applications....

The PEAK 888VL2 is the latest PICMG 1.3 SBC from Nexcom. The PEAK 888VL2 provides powerful processing and I/O capabilities....

The NISE 50 is the latest IoT Gateway from Nexcom in its affordable range....

Nexcomshop.com, the premier UK distributor for Nexcom products has introduced the NIFE 300 PC-based IoT controller, designed to accelerate the migration of automation systems to cyber-physical systems for smart manufacturing....